Your patients rely on you to treat them. Be there for them. DOM helps you intuitively record and view treatment details so you can focus on the person, not the chart.
---
Integrated Clinical Chart/Treatment Plan Display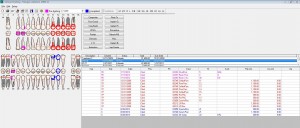 A picture is worth a thousand words. Designed for patient presentation, the display of the clinical chart alongside the treatment plan is very effective for recommendation of proposed treatments. Learn more
---
DrFirst E-prescribing
Comprehensive E-prescribing for Practices
Electronically send legend drugs and controlled substances all in one workflow. BRS integrates DrFirst's Rcopia® and EPCS GoldSM 2.0 solutions to enhance the prescribing workflow, improve patient safety and strengthen quality of care. Learn more
---
Digital Imaging Versatility
Monitor, Monitor on the wall, whose imaging system? You can have them all.
DOM supports integration of multiple imaging technology vendors. Learn more
---
Perio Chart with Voice Dictation
Let the system take your notes, and save the cost of a second person.
Customizable voice options. Learn more
---
Orthodontic Charting in DOM
Make your orthodontic treatment tracking smoother.
We hope you'll be able to utilize Orthodontic Charting for your practice. Learn more
---
Lab Case Tracking
Easily stay on top of patient lab cases
Coordinate appointments with availability of lab results. Learn more